I don't think I've mentioned it here on ChurchTrain, but I actually rebranded my church website design business going in to the new year, as it's now my full-time hustle.
You'd think I would shout about my business more here, as it's obviously pretty important to me. It's also closely related to the topics that we think about here on ChurchTrain, given that I spend much of my time designing custom websites and branding – often for churches.
Plug, plug, plug
I guess I should self-promote a bit more through the blog. But that wasn't really the reason I founded ChurchTrain. I want to share my experience here, to help educate churches who may not have thought too much about communications.
The last thing I want is for people to be put off by a bunch of plugs for my business.
If I may allude to the immortal words of Blackadder:
George: Well you know, one doesn't want to blow one's own trumpet.

Blackadder: You might at least have told us you had a trumpet.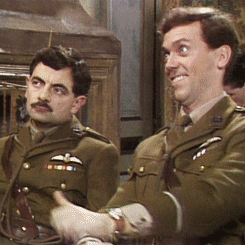 So I wanted to take a minute today to highlight a few of my recently completed projects. But rather than just sharing them for the sake of it, I thought it would be useful to highlight some key church website design considerations that have gone in to each of them. Hopefully you agree that I'm practising what I preach with regards to church website design!
These recent projects are also showcased on the 'Work' page on Be Gallant, along with many of my other projects.
Church website design case studies
BGBC
Church website design and rebrand by Be Gallant – View site
Borough Green Baptist Church needed a new website, and an updated brand, to help represent themselves to the local community.
The new church logo combines elements of modern and traditional design, drawing on the church's rich history, whilst pointing towards their future in the village. Whilst reasonably minimal, the logotype aims to fulfil Bruno Munari's idea of 'hitting the viewer in the eye,' as he discusses in Design as Art. The logo is designed to be noticed!
Now, on to the website!
The aim with this church website is to keep things fairly simple. The site needs to get information to the people that need it. But it also needs to be low-maintenance, so that it doesn't become a chore to keep it up to date. To this end, the website is easy to edit, and includes a banner on the homepage to highlight upcoming events. The church can easily hide this when it's not needed.
The layout includes clear calls to action, to learn more about the church, and to find out more about what they believe. The service times are clearly visible on the homepage – something which should never be overlooked – but there are also links to discover the other activities the church provides.
The main navigation in the site header allows easy access to deeper pages in the site, without distracting users with too many options.
Finally, whilst we've used photography to add some colour and visual variety, we also carefully selected images to give an honest representation of the church. The last thing the church wants to do is to mislead people, by pretending to be something they're not.
Hope Church
Church website design by BeGallant – View site
Hope Community Church Bingham is based not too far from Edinburgh in Scotland. You can't get much further from where I'm based in Kent without leaving the UK!
They're a group of people who are in the process of planting a community church in the middle of an estate, with the aim of showing love to the people around them.
They approached me a couple of months ago, asking for me to design and build a website that would communicate their mission to potential supporters and volunteers, as well as people in the local area.
One of the most important elements of this particular church website is that is friendly. The church runs several community events, including a café, in order to share God's love in an approachable way. Therefore, the standard approach of 'What we believe' is less critical. Instead, the website aims to build trust with those who are looking to find out more. This is achieved through light, bold colours, and a focus on promoting the weekly events with welcoming photography and playful typography.
Of course, a key element of church web design is to provide links to social media. These icons provide a clear path for users to find out more, whilst the inclusion of a video allows users to gain a deeper understanding of the church. By hearing directly from the people involved in running the projects, we can establish a deeper connection.
With regards to the regular events, a I designed a simple layout for the 'What's On' page, which adapts neatly to devices of different sizes.
Whilst embedded calendars can be helpful, they often overcomplicate the design, resulting in confusion. This is especially true if the source calendars are not kept up to date – something which happens far too often! If more information is needed, we've included an invitation to 'ask a question' via the contact form.
KJ Schools
Charity website design by Be Gallant – View site
This one's a little different! It's not for a church, but is for a church-related ministry. KJ Schools exists to spread the gospel through creative storytelling in schools, in the BH area of Dorset.
Right off the bat, the website is clearly designed with schools and children in mind. The colour pallet is formed of bright primaries, and complemented by a playful header font.
Again, we've stripped down the main navigation to avoid information overload. To facilitate users' journeys, there are colourful call to action boxes throughout the site, with suggested 'next steps'. I've chosen these according to the content of the page, so the 'Support the Work' page has options to find out about 'Giving' and 'Prayer Updates'. But the 'Info for Schools' page has boxes with links to 'Booking Enquiries' or to the 'Contact' page to ask a question.
This 'Info for Schools' section needs to include a lot of information. It's important therefore to vary the page layout, avoiding a single block of text which would be hard to read. Not to mention aesthetically plain.
As you can see on the page, there is paragraph text for the introduction, then a column-based layout for the different themes that are covered. The testimonial quotes use coloured boxes, whilst the letter of recommendation reverts to paragraph text, but with a coloured background. These varying layouts aim to retain user attention, whilst still communicating the necessary information in the most efficient way.
Finally, whilst a fairly simple consideration, the contact form includes a drop-down field to select a topic for the enquiry. This ensures messages can be easily filtered, and dealt with in the right way.
I have several other projects in the works right now, which I'm really excited about. I hope to share them soon via social media. You can follow me
on Twitter here
, or
on Facebook
.
And as we're on the subject of shameless promotion, I guess this is the part of the blog post where I tell you 'I'd love to have a chat with you if you have a project in mind'.
The thing is, I really would!
Let's Chat
Helping churches is not just the reason I founded ChurchTrain. It's even deeper – it's the reason I got in to design/communication/marketing in the first place!
So even if we decide not to work together on your project, I'd love to chat about it, and to help you figure out your needs. Pop me a message and we can set up a call!